Lunapark Sowiński is also called Lunapark Władysławowo because of its' location in the city of Władysławowo. It was founded in 1997 and is one of the few Fixed Luna Parks in the world, that runs as a family-owned business.
Lunapark Sowiński offers several rides and other attractions as well as a restaurant. It hosts the highest roller coaster in Poland – the "Tajfun". Some of the other main attractions include the "Wywiercić"-condor, the Space loop and the Czy splash shake (see the gallery in the bottom of this page for videos).
Next to the park you will also find a museum  (Museum Motyli) with butterflies and other insects from around the world. There is also a watch tower (Dom Rybaka) that offers a fantastic view over the Luna Park as well as the sea and landscape (see the image in the bottom of this page).
Entry price and tickets
The entry tickets in Lunapark Sowiński costs 6 – 15 PLN (€1.40 – €3.50) per person. The tickets prices depend on the age of the visitor.
You also have to pay for the rides and attractions which costs 8 – 32 PLN (€1.85 – €7.41). Most of them cost between 8 PLN and 16 PLN, but the rides Katapulta and Booster are more expensive at 24 PLN and 32 PLN respectively.
Opening hours
Lunapark Sowinski opens according to the seasons. It is closed in the period October to March. It is open from April to September. The opening hours are the following:
| | |
| --- | --- |
| Month | Opening hours |
| May | 11.00  – 19.00 |
| June | 11.00 – 19.00 |
| July – August | 11.00 – 23.00 |
| September | 11.00 – 19.00 |
Contact information
Lunapark Sowiński
ul. General Haller (Hallera)
84 – 120 Władysławowo
Poland
517 835 165
http://www.lunapark-sowinski.com.pl
Transport
Lunapark Sowiński is located in the city of Władysławowo at the beginning of the Hel-peninsula north of Gdansk and Gdynia. It is close to the harbor and the seafront.
You can go to Lunapark Sowiński by car, train and in theory also boat.
Car: By car you will simply have to follow one of the main roads that takes you to Władysławowo. There are a parking space next to the park.
Train: Take the train to the station "Władysławowo". You can also get off at "Władysławowo Port", but is a slightly longer and less attractive walk.
Boat: As mentioned the park is situated next to the harbor. If you have a boat you can – in theory – use it to get there.
Gallery
Here you can see an image of the view from the Dom Rybaka-tower over Lunapark Sowiński, as well as some videos from the park.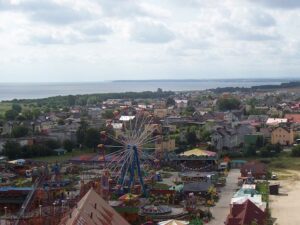 You can see more videos from Lunapark Sowiński on their official Youtube channel.